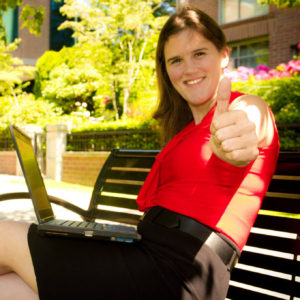 While I've lived in all three of Canada's western provinces, I am a British Columbia girl at heart and have an immense love for this amazing place in which I'm fortunate to live. I make the most of it by spending as much time as possible playing outside: trail running, hiking and sailing. I also have a high energy trail-loving dog who has been my companion on many adventures. I have been living in beautiful North Vancouver since 2009.
Before starting my career as a Financial Advisor, I worked with individuals facing homelessness, addictions, and mental illness, where I developed my skills in helping people to set goals and overcome barriers in reaching those goals. I also have witnessed the tenacity of human spirit in conquering obstacles, and I love helping clients through the process. So, it was a natural progression for me to transfer those skills into helping people with their financial security. I love problem solving, and I love being a part of your success!
My Vision
To provide an unprecedented level of care and service for my clients, assisted by a team of excellent professionals giving wrap-around support, so that my clients can achieve their financial, business, and life goals with confidence and security.
My Mission
To develop and implement comprehensive financial plans that address both the big picture and the individual pieces by using proven processes and strategies, and to incorporate education into everything I do.
Why
Achieving financial security is a struggle for most families and business owners, and that struggle is compounded by a lack of quality information and guidance. This can affect every other aspect of their lives, creating stress and anxiety. Helping my clients take control of their finances allows them to focus on doing what they do best and to feel good about where they are headed. I love being a part of this process for them!